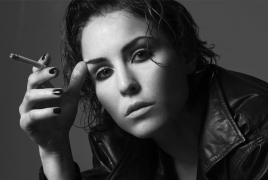 May 13, 2015 - 12:53 AMT
PanARMENIAN.Net - Noomi Rapace will portray opera singer Maria Callas in the feature biopic "Callas" with Niki Caro directing, Variety reports.
The biopic is centered on the passionate relationship the singer had with Greek tycoon Aristotle Onassis lasting almost two decades. Caro will direct "Callas" from a screenplay she adapted from Alfonso Signorini's biography "Too Proud, Too Fragile."
Content Media will handle world sales for "Callas" and introduce the project to distributors for the first time in Cannes.
Callas was a profoundly influential American opera singer of Greek heritage. She died in 1977 at the age of 53.
Producers on the fully financed production are Guido, Nicola and Marco De Angelis of Italy's De Angelis Group and René Bastian, Linda Moran and Victoria Bousis of New York-based Belladonna Productions, and Ben Latham-Jones of the UK's Ealing Studios and Londinium Films. Executive producers are James Spring of Ealing Studios, Brett Thornquest of Eclectic Vision in Australia, Jason Van Eman of Weathervane and Jamie Carmichael of Content.
"This movie is about an extraordinary woman whose deepest desire is to lead an ordinary life with the man of her choice," said Guido De Angelis. "Callas was la Divina, a goddess, who just wanted to be a normal woman; she found out she couldn't. It sounds like an ancient myth."
Rapace's credits include "The Girl with the Dragon Tattoo," "Prometheus," "Sherlock Holmes: A Game of Shadows" and "The Drop." Caro directed "McFarland USA," "North Country" and "Whale Rider."