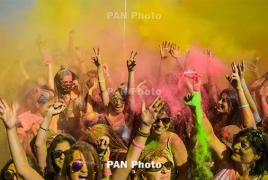 March 20, 2017 - 13:02 AMT
PanARMENIAN.Net - Armenia was ranked the 121st in a new report on world's happiest countries, released on Monday, March 20 that called on nations "to build social trust and equality to improve the wellbeing of their citizens."
The World Happiness Report 2017 is produced by the Sustainable Development Solutions Network (SDSN), a global initiative launched by the United Nations in 2012.
Armenia's northern neighbor Georgia lags behind in the 125th spot in the fifth annual report covering 155 countries.
Meanwhile, Turkey, Azerbaijan and Iran have registered better results, claiming the 69th, 85th and 108th positions, respectively.
In the survey, Norway displaced Denmark as the world's happiest country, with Iceland, Switzerland, Finland, the Netherlands, Canada, New Zealand, Australia and Sweden rounding out the top ten countries.
South Sudan, Liberia, Guinea, Togo, Rwanda, Tanzania, Burundi and the Central African Republic were at the bottom.
Germany was ranked the 16th, followed by the United Kingdom (19th) and France (31st). The United States dropped one spot to 14th, while Russia came in the 49th.
The rankings are based on six factors -- GDP per capita, healthy years of life expectancy, social support (as measured by having someone to count on in times of trouble), trust (as measured by a perceived absence of corruption in government and business), perceived freedom to make life decisions, and generosity (as measured by recent donations).