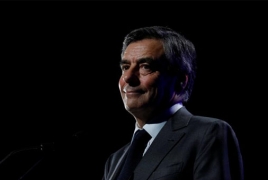 April 19, 2017 - 13:50 AMT
PanARMENIAN.Net - Taking advantage of the international community's indifference, Azerbaijan in April 2016 attempted to seize Nagorno Karabakh by force, Republican candidate in the upcoming French general election Francois Fillon said in an interview with Nouvelles d'Arménie.
Azerbaijan on April 2, 2016 launched a large-scale military offensive against Karabakh, which claimed hundreds of lives on both sides. Top Armenian and Azerbaijani defense officials reached an agreement on the cessation of hostilities on April 5 in Moscow.
"I share the concern of French Armenians, as the conflict in Karabakh is a powder keg in the South Caucasus region," Fillon said.
The candidate said the current situation is the handiwork of Stalin, who in 1921 "arbitrarily separated Karabakh from Armenia in favor of Azerbaijan."
"Now there is no choice other than finding a peaceful and lasting solution through the United Nations," he said.
Also, the presidential hopeful weighed in on the Armenian Genocide, pledging to designate April 24 as a remembrance day for the crime against humanity, if elected.
France is a co-chairing country of the OSCE Minsk Group alongside Russia and the United States.