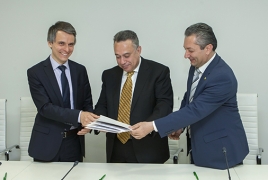 May 5, 2017 - 19:03 AMT
PanARMENIAN.Net - A trilateral memorandum was signed by ACBA-Credit Agricole Bank, UNDP Armenia and the National Platform for Disaster Risk Reduction Fund (ARNAP) on Friday, May 5, with the sides confirming their commitment to mitigating the effects of hail on the Armenian agricultural sector.
In the framework of the program, the bank will provide loans with a maturity period of seven years and interest rates starting from 12.5% for farmers to acquire anti-hail nets. UNDP Armenia will, in turn, contribute the 20% of nets as an investment grant.
Throughout the project, ARNAP will provide consultations on maintenance, use and care, organize the process of the measurement and installation of anti-hail nets.
"Among the key objectives of the program is to create and develop, as well as protect farm households from natural disasters," ACBA-Credit Agricole Bank CEO Hakob Andreasyan said.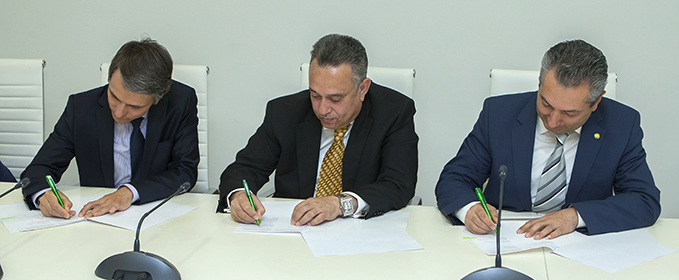 "The UNDP attaches great importance to cooperation with the private sector, which will boost the spread of alternative approaches to climate risk reduction," deputy permanent representative of UNDP in Armenia Dmitry Mariasin said.
"In the framework of this cooperation, the UNDP has already imported Italian nets with a 12-year warranty and high efficiency."
Also, Mariasin said, the memorandum aims to collect and document information on the efficiency of anti-hail nets, which will later be submitted to the Armenian government.
"Created by the government as an agency for supporting the establishment of disaster risk reduction mechanisms, we attach utmost importance to this cooperation. Not only does it ensure direct assistance to farmers and contribute to the spread of alternative approaches of disaster risk reduction, but it also exhibits the need and effectiveness of collaboration among various bodies," ARNAP acting director Ara Barseghyan said.
The biggest damage to agriculture, especially viticulture and fruit and vegetable farming is caused by hail.
Research suggests that hail destroys 4-5% of Armenia's crop production, which is estimated at AMD 16-20 billion annually.