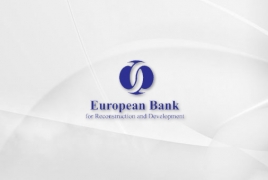 May 10, 2017 - 14:09 AMT
PanARMENIAN.Net - The European Bank for Reconstruction and Development (EBRD) on Wednesday, May 10 revised up Armenia's growth outlook by 0.5 percentage points to 2.5% for 2017.
Armenia's economy will grow by 2.5% this year and 3.0% in 2018, EBRD said, as it trimmed the projections from its last round of forecasts in November.
The EBRD - which operates in 36 countries from eastern Europe to Morocco and Mongolia - assesses progress in transition through a set of transition indicators in six areas: large scale privatisation, small scale privatisation, governance and enterprise restructuring, price liberalisation, trade and foreign exchange system, as well as competition policy.
GDP growth in Armenia slowed from 3% in 2015 to 0.2% in 2016, driven by a decline in construction and agriculture, EBRD says.
"A sizable fiscal consolidation is planned in 2017 to curtail the public debt-to-GDP ratio, which increased to an estimated 57% of GDP at the end of 2016," the bank revealed.
"In the first quarter of 2017, economic indicators pointed to growth in industrial output, external trade and services, while agriculture and construction performance remained weak."
Also, EBRD slashed Turkey and Azerbaijan's growth outlook by 0.4 and 1.5 percentage points to 2.6% and a negative 0.5% this year, respectively, while confirming its previous 2017 growth forecast of 1.2% and 3.9% for Russia and Georgia, respectively.
Separately, the United Nations predicted a 2.5% GDP growth, the World Bank and the IMF expect a 2.7% and 3.0% growth, respectively, while the government eyes a 3.2% eceonomic growth in 2017.