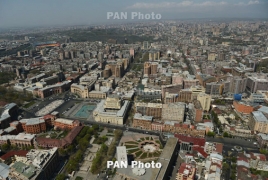 October 7, 2017 - 16:35 AMT
PanARMENIAN.Net - Armenia is never one to let an international trend pass it by, Eurasianet.org said in an article about the self-driving electric car that the country unveiled recently.
This is a first for Armenia, a Soviet-era vehicle-manufacturer with a growing high-tech sector.
To be sure, the yet-to-be named car, presented at a September 29-October 1 technology exhibit in Yerevan, was pieced together from internationally made parts. The engine and battery are foreign-manufactured, but the overall car was designed by a team of Armenian engineers and assembled by the Armenian branch of the Texas-based technology corporation National Instruments.
The vehicle can reach speeds of up to 90 kilometers per hour (56 miles per hour) and its fully charged battery can last for a 50-kilometer (31-mile) drive, Davit Gevorkyan told local reporters at DigiTec, an annual tech expo in Yerevan. Davit Gevorkyan said it cost around $5,000 to produce the vehicle – a likely fraction of the production costs for a GM-made model.
With few natural resources to offer, Armenia has been largely betting on science and technology, especially software production, to power its modest, $10.7-billion-economy. Last year, Armenia became the first post-Soviet country after Russia to produce its own smartphone, the Armphone, and a tablet computer, Armpad.