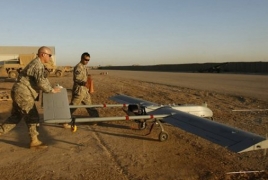 October 11, 2017 - 16:59 AMT
PanARMENIAN.Net - A combat drone of the United States Air Force has targeted a gathering of top military leaders for the Al-Qaeda-linked Ha'yat Tahrir al-Sham (formerly Jabhat al-Nusra) militant group, Al-Masdar News reports.
According to sources, the USAF drone identified and hit a Ha'yat Tahrir al-Sham headquarters building north of the town of Khan Sheikhoun in southern Idlib province.
The American drone strike reportedly killed five of the top brass belonging to the jihadist faction.
The U.S. is claiming that one Abu Al-Baraa Al-Aurdni, a highly-placed emir and military commander for the militant group who is of Jordanian nationality is among the dead.