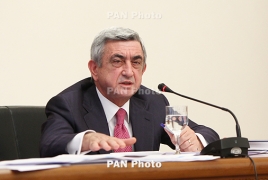 November 9, 2017 - 11:27 AMT
PanARMENIAN.Net - The goal of bringing Armenia's population to four million by 2040 is a difficult, but a realistic task, president Serzh Sargsyan told aconsultation on demographic issues on Thursday, November 8.
The meeting focused on the key demographic challenges in Armenia and the opportunities for improving the situation. Macroeconomic factors affecting the demographic situation, the priorities and the steps to take as a basis for implementing targeted policies, as well as the incentives to achieve this goal were also in the limelight.
Addressing the attendees, the president stressed that the nationwide goal of bringing Armenia's population to four million by 2040 is a difficult, but realistic task.
Sargsyan also said the security issues coming from Armenia's relations with some neighbors that have an adverse impact on the demographic situation are surmountable too.
The president said he believes that the achievement of the goal should be a primary focus for all Armenian authorities, and the continuous improvement of the demographic situation should be considered very important even after 2040.
Summing up the discussion, the president issued a number of instructions. In particular, the government was tasked to develop a set of strategic provisions for improving the demographic situation in the country, and to reflect them in Armenia's development strategy by determining the relevant components and five-year targets for the development and implementation of future projects.
Sargsyan had said earlier too that Armenia should have a population of four million by 2040.