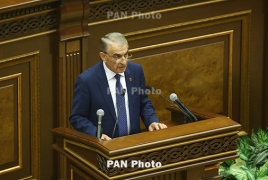 November 10, 2017 - 14:16 AMT
PanARMENIAN.Net - Armenia is the guarantor of Artsakh's security while the people of Artsakh (Nagorno Karabakh) are in charge of their fate, Armenian parliament speaker Ara Babloyan said at a session of interparliamentary cooperation committee of the two Armenian states.
According to him, no body or agency can adopt a resolution contradicting Artsakh's position.
"Artsakh's existence and status as part of Azerbaijan is impossible and unacceptable. In order to push the negotiations forward, Baku must abandon the thought of imagining Artsakh inside Azerbaijan even in theory," Babloyan said Friday, November 10.
Weighing in on the constitutional referendums in both Armenia and Karabakh, Babloyan said they contributed to raise the level of efficient management and democracy in the two countries.
The peaceful settlement of the Karabakh conflict was discussed in Vienna at a special meeting on Thursday.