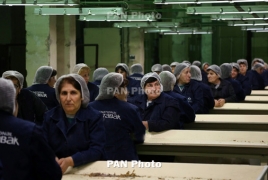 February 13, 2018 - 10:56 AMT
PanARMENIAN.Net - Women working full time in Armenia are paid 95% of what men are paid on average, data provided by the National Statistical Service reveals, adding, however, that the gap in incomes is bigger - namely, 40%.
A gender pay gap is the difference between women's and men's earnings, expressed as a percentage of men's earnings.
82% of employers and 56% of self-employed people are men in the country.
Furthermore, the level of female economic activity stands at 54,3% which is significantly lower than that of men (72,6%).
7% of the cabinet of ministers, 6.2% of deputy ministers and 18% of lawmakers of the National Assembly are women, while no province is governed by a female official.
18% of the country's labor resources or 35% of all the employed are engaged in agriculture, of which 54% are women. In the event of informal employment they are deprived of social guarantees.