PanARMENIAN.Net - Formation of new government
After the appointment, Karapetyan formed new government, inviting new people to the political arena. He promised to introduce innovations and drastic changes together with the younger cabinet. The average age of the government decreased with 4.4 years, while old-timers like Culture Minister Hasmik Poghosyan, Defense Minister Seyran Ohanyan, Transport and Communications Minister Gagik Beglaryan and Finance Minister Gagik Khachatryan had to leave. Syunik province governor Surik Khachatryan's dismissal was also a landmark event.
Accepting the reality
The newly appointed Prime Minister called to have a sober view on the Armenian economy. "The state of our economy is really grave. To improve it, consistent action is needed. Drastic changes are also to be taken to relieve the social tension and promote business development," he said.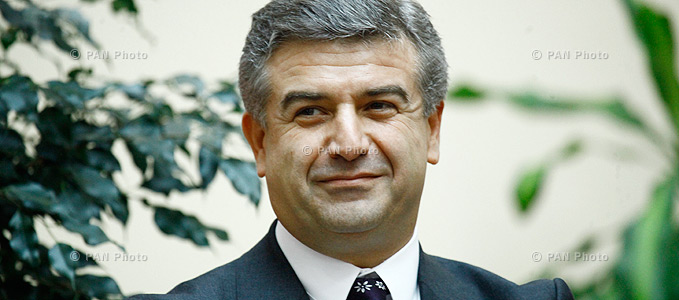 Optimization of expenses
Immediately after taking the post, the PM cancelled a number of ministerial trips he rated as inexpedient. Besides, he ordered to cut the governmental expenses, including the presidential staff budget. Offices for implementation of programs were also curtailed or closed.
Electricity and gas
On the third day of his premiership, Karapetyan offered the Public Services Regulatory Commission (PSRC), the Ministries of Natural Resources, Labor and Social Affairs to discuss and present a package of proposals to review the electricity and gas tariff policy. As a result, the gas price will decrease on January 1, 2017, while electricity price will go down on February 1.
Struggle (or not) against monopolists
PM Karapetyan has announced that he is not going to wage a war against monopolists, but pledged to create equal conditions for businessmen and thus exclude corruption to get privileges. He emphasized that any person is free to import any goods. "If you have any problem, you can call me personally," he said.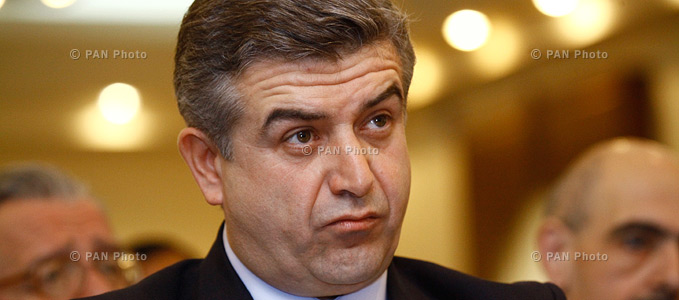 Easing bureaucracy
On October 13, the Prime Minister said that the information technologies can help make services more available. "I have instructed the Minister of Labor and Social Affairs to create a possibility to apply for child allowance online." The task was fulfilled within the shortest period of time.
Parking meter-zone
PM Karapetyan and President Sargsyan have decided that the income from the paid parking previously managed by Security Dream, Parking City Service and Locator LLCs should replenish the state budget, thus taking the financial flows and administration of the process under the governmental control.
Struggle against corruption
To make struggle against corruption more efficient, the PM requested to develop a draft law calling for criminal responsibility for illegal wealth accumulation (when the growth of a statesman's actives significantly exceeds his/her legal income.) Another bill prohibited transactions with cash. "False transfers and donations are usually made in cash, making the process unmanageable. In most cases, it's not known whether the beneficiary received the transfer or not," Karapetyan explained.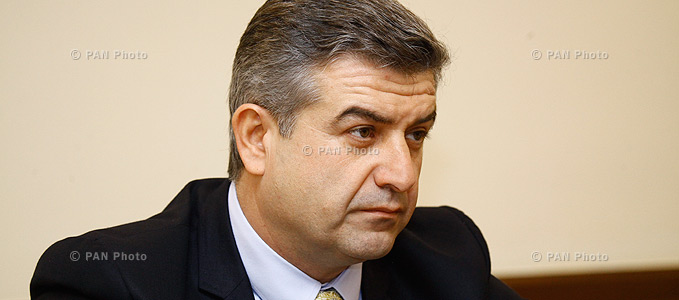 Cooperation with foreign countries
PM Karapetyan initiated more active work of the Armenian diplomatic outposts abroad. It was decided that the embassies will henceforth employ IT specialists and will create a proper platform for attracting investments.
Primitive theft, backstabbing and training area
The new Prime Minister has a habit of calling it like it is.
"Put an end to primitive theft."
"Without unshadowing, we will not be able to build a proper state."
"This is not a training area. I have an impression that anyone can do what he want in this city."
"Not paying attention to what our children are eating is equal to backstabbing our family."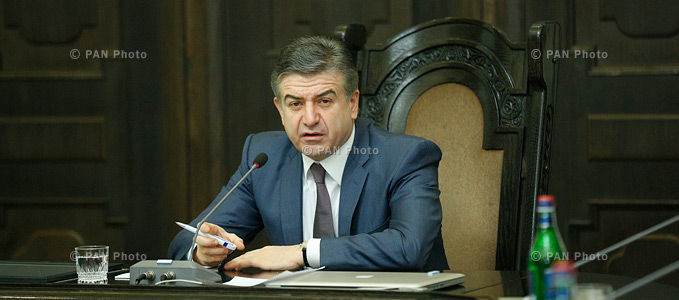 Not for 7 months
When Karapetyan was appointed as Armenia's Prime Minister, everyone asked: "For how long?" 7 months or ..?" Currently, it's only known that if the Republican Party wins the next parliamentary elections in April 2017, he will retain the post. However, no one can guess what will happen after the presidential elections scheduled for February 2018.