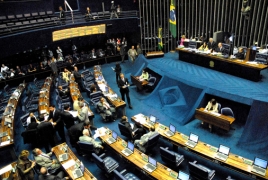 May 29, 2015 - 22:40 AMT
PanARMENIAN.Net - The Federal Senate of Brazil has passed a resolution condemning the Armenian Genocide.
"Brazil has become the 24th country to recognize the Armenian Genocide," the head of Armenian President's Chief of Staff, Vigen Sargsyan, said in a Facebook post.
According to the RA Foreign Ministry, the resolution adopted unanimously says that the "Federal Senate recognizes the Armenian Genocide, the centennial of which was marked on April 24, 2015. The Senate honors the memory of Genocide victims and highly appreciates the contribution to the economy and culture by the Genocide survivors and their heirs, who found shelter in Brazil," the document says.
It also emphasizes that no genocide should be forgotten.
Commenting on the decision, RA Foreign Minister Edward Nalbandian said that "the irreversible process of the international recognition of the Armenian Genocide continues. Brazil made its contribution to the prevention of crimes against humanity."