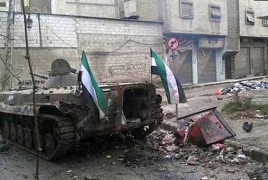 February 27, 2016 - 14:55 AMT
PanARMENIAN.Net - A suicide car bomb exploded Saturday, February 27 on the edge of a government-held central town, killing two people and wounding four, hours after a ceasefire brought relative calm to parts of Syria, the state news agency and opposition activists said, accoriding to the Associated Press.
No one claimed responsibility for the blast on the eastern entrance of the town of Salamiyeh, which came hours after the implementation of a cease-fire brokered by the U.S. and Russia began.
The ceasefire went into effect across Syria early Saturday, marking the biggest international push to reduce violence in the country's devastating conflict that has killed 250,000 people, wounded a million and created Europe's worst refugee crisis since World War II.
The truce does not include either the Islamic State group or al-Qaida's branch in Syria, known as the Nusra Front. Opposition activists in different parts of Syria said the situation has been "cautiously calm" since the truce went into effect at midnight Friday, reporting sporadic violations.
State TV said the blast occurred near an army checkpoint just outside Salamiyeh, where most residents belong to the Ismaili branch of Shiite Islam. The Islamic State group has claimed responsibility for several bombings in Syria that claimed the lives of dozens in recent weeks, AP says.
The Britain-based Syrian Observatory for human Rights said the explosion was the work of IS, adding that the two killed were both soldiers.