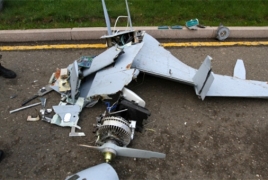 April 12, 2016 - 11:21 AMT
PanARMENIAN.Net - Israel is apparently set to send more drones to Azerbaijan in the next few days, Meretz party leader Zehava Gal-On claimed in a letter of protest sent to Defense Minister Moshe Ya'alon, i24 News reports citing Haaretz.
The letter, Haaretz reports, requests that Ya'alon halt the delivery of the drones to the Azeri army until Israel receives assurances that they will not be used against the Armenian military.
"As you know, Armenia and Azerbaijan are both friendly to Israel, and it is inconceivable that Israeli weapons be used in a war between the two countries over the Nagorno Karabakh region," Gal-On wrote.
The Armenian ambassador in Cairo, who doubles up as ambassador to Israel, traveled to Jerusalem to remonstrate with Israel over the incident, Haaretz reported on Sunday.
"Israel is a major arms supplier to Azerbaijan, and the states signed deals worth some $5 billion in recent years according to reports," Gal-On's letter continued, according to Haaretz.
"There is a serious fear that laws of war were violated with Israeli weapons. I ask that you order the halting of additional drone supplies to Azerbaijan until a commitment is obtained not to use them in battles in Nagorno Karabakh."
Nonetheless, the First Deputy Defense Minister of Armenia, David Tonoyan said earlier that Armenia was offered the same drones by Israel but declined, saying they had no need for them.
The parties to the Karabakh conflict agreed on a bilateral cessation of fire along the contact line which came into force at midday, April 5.
Prior to that, on the night of April 1-2, Azerbaijani armed forces initiated overt offensive operations in the southern, southeastern and northeastern directions of the line of contact with Nagorno Karabakh.
As many as 64 Armenian solders were killed, 122 more were wounded.
As of April 5, the Azerbaijani side has lost 26 tanks and 4 infantry fighting vehicles, as well as 1 BM-21 Grad multipl e rocket launcher, 1 engineering vehicle, 2 military helicopters and 14 unmanned aerial vehicles. The Azerbaijani side has admitted the loss of 31 fighters, 1 helicopter and 1 unmanned drone, whereas the Armenian side's photo and video materials show dozens of killed Azerbaijani troops, 1 helicopter and 3 UAVs. Opposition media outlets, however, reported on the death of 95 Azerbaijani soldiers, stating that 39 more have been wounded. According to Karabakh authorities, 300 Azerbaijani soldiers were killed in clashes.
14 Karabakh tanks have been neutralized since April 2.