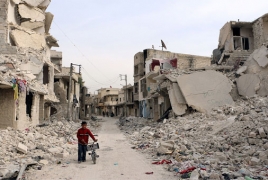 September 16, 2016 - 10:14 AMT
PanARMENIAN.Net - Russia said the Syrian army had begun to withdraw from a road into Aleppo on Thursday, September 15 a prerequisite for pressing ahead with international peacemaking efforts as the government and rebels accused each other of violating a truce, Reuters reports.
An organization that monitors the war also said the Syrian army had begun moving away, but insurgent groups in Aleppo said they had not seen the army withdrawing from the Castello Road, needed to allow aid deliveries into the city, and would not pull back from their own positions near the road until they did.
The Pentagon said it could not confirm reports of a withdrawal but U.S. State Department spokesman Mark Toner said the ceasefire was holding "by and large", adding both Washington and Moscow believed it was worth continuing.
But there were growing accusations of violations by each side, with a Syrian military source saying the rebels were responsible for dozens of breaches including gun, rocket and mortar fire in Damascus, Aleppo, Hama, Homs and Latakia. The rebels said Syrian army jets had struck in Hama and Idlib, and used artillery near Damascus.
The Syrian Observatory for Human Rights, a British-based war monitor, said it had documented attacks by both sides, and that despite widespread calm between rebels and the army, the first civilians had been killed since the truce began on Monday.
Two civilians killed on Thursday were children in government-held areas, one in Aleppo and the other in Syria's southwest, it said. In addition, air strikes against Islamic State militants in the town of al-Mayadin near Deir al-Zor had killed at least 23 civilians, it said.
Control of the Castello Road is divided between the government and rebels who have been battling to topple President Bashar al-Assad for more than five years. It has been a major frontline in the war.
"The Syrian army ... began the staged withdrawal of vehicles and personnel from the Castello Road to ensure the unimpeded delivery of aid to eastern Aleppo," said Lieutenant-General Vladimir Savchenko, head of the Russian Reconciliation Centre in Syria in remarks broadcast on state television.
The Observatory said the army had started to withdraw from positions on the road, but that Russian troops, whose air force has helped Damascus blockade rebel-held Aleppo, had replaced it.
An official in an Aleppo-based Syrian rebel group said late on Thursday the army had not pulled back. "There is no withdrawal by the regime from the Castello Road," Zakaria Malahifji, of the Aleppo-based rebel group Fastaqim, told Reuters.