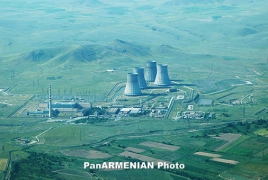 September 27, 2016 - 11:17 AMT
PanARMENIAN.Net - Turkey's Energy and Natural Resources Minister has said Monday, September 26 the Armenian Metsamor nuclear power plant should be shut down as "the world cannot risk another disaster like Chernobyl," Anadolu Agency reports.
"Even if each country took the necessary precautions about its own nuclear power plant, we cannot ignore the threats at the borders. Therefore, we have to act together towards potential threats. In that regard, the Metsamor nuclear power plant should be shut down," Berat Albayrak said at the 60th general conference of the International Atomic Energy Agency (IAEA) in the Austrian capital Vienna.
Armenia's Metsamor plant was built in 1970 and is located 16 kilometers from the Turkish. Armenia has extended Metsamor's lifespan until 2026.
He also said that Turkey currently had plans to build three nuclear power plants.
Each of the plants boast four reactors, he said adding that the feasibility studies for the third nuclear power plant were still ongoing.