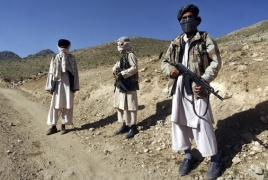 October 13, 2016 - 18:23 AMT
PanARMENIAN.Net - Taliban militants ambushed and killed around 100 Afghan police and soldiers earlier this week as they tried to retreat, the heaviest losses suffered by government forces during months of fierce clashes near the capital of southern Helmand province, Reuters reports.
On Tuesday, October 11, dozens of Afghan police and soldiers were cut down as they withdrew from their positions in Chah-e-Anjir, about 12 km outside the city of Lashkar Gah, having been surrounded and besieged for days.
"We were one battalion there and, except me and two others, no one came out alive," Faiz Mohammad, an army soldier who survived the ambush, told Reuters in Lashkar Gah, a bloodied bandage wrapped around his head.
Afghan Taliban fighters have pushed into some areas of Lashkar Gah, firing rockets at government buildings and sparking a new wave of residents fleeing the city.
The sustained assault is the most serious threat to security in Afghanistan since the brief capture of the northern city of Kunduz a year ago, and underlines the government's precarious defenses despite support from U.S.-led foreign forces.
One senior security official put the death toll from the Chah-e-Anjir incident at around 90, while other sources said it was likely to be higher.
"As they (government forces) were coming towards Lashkar Gah, they were ambushed in three locations," the official said, according to Reuters.
Dozens of other security personnel surrendered during the debacle, while Taliban gunmen seized at least 22 armored Humvees, dozens of trucks, and hundreds of rifles, he said.
Taliban spokesman Qari Yousuf Ahmadi said that account was accurate, and that militants killed and captured dozens of troops.
Mohammad Rasool Zazai, spokesman for the army's 215th Corps in Helmand, said reinforcements had been working on a plan to relieve police and soldiers in Chah-e-Anjir, but they left their positions before an operation was launched.
"We were in contact with the troops there and the plan was to bring them back to Lashkar Gah to protect the city, but they decided to move without coordinating with us and they were ambushed by the Taliban."