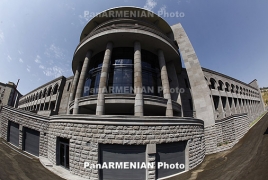 October 20, 2016 - 14:08 AMT
PanARMENIAN.Net - On the Feast of the Holy Translators on October 8, the Aurora Humanitarian Initiative decided to grant $20,000 to Yerevan's Mesrop Mashtots Research Institute of Ancient Manuscripts, Matenadaran, to help make Armenian culture more accessible to foreign visitors.
The grant will fund the training of ten Matenadaran guides. They will travel to Germany to visit museums and cultural centers to identify and learn the newest principles of museum management and presentation, and to develop skills necessary for guides who work in foreign languages.
"Matenadaran has always valued the importance of sharing information. We pay special attention to professional competence of our guides. This project is enormously important and we are pleased that this partnership grows and is becoming strategic," said Ara Khzmalyan, Advisor to the Director of Matenadaran.
Matenadaran has the biggest flow of foreign visitors in Armenia as a research and cultural institution.
"Allocating this grant on the feast of Holy Translators is not just symbolic. With this investment, we are proud to continue the tradition of the 5th century translators who were instrumental in integrating Armenia and Armenians into the world culture. Better representation of Armenian culture through better-trained guides is very important, and an appropriate fit within the Aurora Humanitarian Initiative," said Ruben Vardanyan, Co-Founder of the Aurora Humanitarian Initiative.
This is the second time the Aurora Humanitarian Initiative and the Matenadaran are cooperating within the project of the Armenian Memory Act. In 2015, Matenadaran received $25 000 grant to purchase a special scanner to digitize manuscripts making them more accessible for researchers and the wider public. 700 manuscripts and rare archival documents have been digitalized since the beginning of the project. The process of digitization is ongoing. The Armenian Memory Act, subproject of Aurora Initiative, is committed to enhancing the preservation and use of archives and documentation of the Armenian experience.