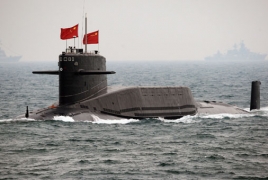 January 31, 2017 - 11:37 AMT
PanARMENIAN.Net - China's second aircraft carrier is "taking shape" after two years and nine months of construction, local media reported, a move likely to further unnerve Taiwan and other neighbors about Beijing's growing military assertiveness, Reuters reports.
Construction of The Shandong, named after a province in China's east coast, began in 2014, the APP of Shandong television and radio said in a report seen on Tuesday, January 31.
The Shandong, China's first indigenous aircraft carrier, is "taking shape", the report said. It did not give a date for completion or further details.
It was being built in the northeastern port of Dalian, the Defense Ministry has said.
The country's first aircraft carrier, The Liaoning, was bought from Ukraine in 1998 and refitted in China.
In January 2017 a group of Chinese warships, led by The Liaoning, tested weapons and equipment in the South China Sea in what the Chinese Foreign Ministry described as routine exercises that comply with international law.
The eventual launch of The Shandong would further rattle self-ruled democratic Taiwan, which Beijing claims as its own, as well as Asian neighbors Brunei, Malaysia, the Philippines, Taiwan and Vietnam with disputed claims in the South China Sea.
China and Taiwan have been diplomatic and military rivals since 1949 when Nationalist, or Kuomintang, troops lost the Chinese civil war to the Communists on the mainland and fled to the island.