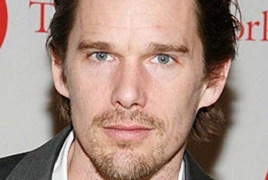 March 14, 2017 - 12:09 AMT
PanARMENIAN.Net - The San Francisco Film Society will honor Ethan Hawke during the 60th San Francisco International Film Festival, Variety said.
The event will take place on April 8 at the Yerba Buena Center for the Arts, and include a conversation with the actor-filmmaker, followed by a screening of his new film, "Maudie," directed by Aisling Walsh.
"Ethan Hawke is worthy of celebration on so many levels," said Rachel Rosen, director of programming. "It's been a pleasure to experience his work as a director of both fiction and documentary, alongside his countless indelible performances. He effortlessly communicates his artistic vision across his various creative pursuits, and we're thrilled to be able to honor him for the full scope of his work in film."
Hawke has been nominated twice for a best supporting actor Academy Award — for "Boyhood" and "Training Day" — and twice for best adapted screenplay — for "Before Sunset" and "Before Midnight." In 2016, Hawke portrayed the late Chet Baker in "Born to Be Blue," and starred in four other films — "The Phenom," "Maggie's Plan," "The Magnificent Seven," and "In a Valley of Violence."
His other notable acting credits include "Dead Poets Society," "Reality Bites," "Alive," "Before Sunrise," "Hamlet," "Gattaca," "The Purge," and "Before the Devil Knows You're Dead." He recently finished production on "Blaze," a drama he co-wrote and directed about the life of country western musician Blaze Foley.
Hawke plays a fishmonger in "Maudie" opposite Sally Hawkins, who faces rejection from her own family in 1930s Nova Scotia. He hires her to be his housekeeper and she ultimately blossoms into one of Canada's best-known folk artists.