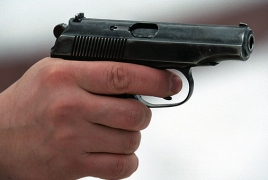 March 14, 2017 - 18:09 AMT
PanARMENIAN.Net - The campaign office of Ohanyan-Raffi-Oskanian (ORO) bloc reports that supporters of the ruling Republican Party of Armenia (RPA) "have attacked the ORO followers" in the village of Jrarat in Armavir province.
Another collision between supporters of ORO bloc and Jrarat mayor was reported on Sunday, March 12.
According to ORO's press office, "several were injured in the attack."
The press service of the Armenian police has also provided details from the scene, according to which everything started with quarrel between the children of both sides, with parents joining the brawl afterwards.
"One of those arguing carried a gun which others tried to snatch, and a shot was fired as a result. One of the participants was taken to hospital with a leg injury, another one was stabbed, while a third one suffered a broken hand," the police said.
Officers are currently stationed in Jrarat to control the situation.
Parliamentary elections will be held on April 2. Nine parties and blocs running for seats at the National Assembly have already launched their election campaigns.