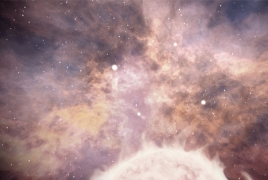 March 15, 2017 - 13:20 AMT
PanARMENIAN.Net - There may be no better way to show off the possibilities of virtual reality than by exploring the cosmos. We've already seen some early space experiences, like Adr1ft, but expect artists to keep experimenting as the VR ecosystem matures. Fistful of Stars, which debuts this week at SXSW, is an ambitious attempt at pushing VR space experiences forward. It launches you into the heart of the Orion Nebula, where you see a star being born up close. It's the sort of thing space nerds have always dreamed of, but it's also intriguing enough for anyone to enjoy (and hopefully learn a thing or two), Engadget said.
Fistful of Stars started out as part of the The Hubble Cantata, a live performance which took place in Brooklyn's Prospect Park last summer. 6,000 people in the audience wore Google Cardboard headsets and stepped through the Orion Nebula as a way to show how VR, something that's typically seen as isolating, could also be a social group experience. And while they were on a virtual space trip, they were serenaded by a 20-piece orchestra and a 100-person choir.
The version of Fistful of Stars we're seeing now has been improved since its initial run, says director Eliza McNitt, and it's backed by a 3D audio recording of The Hubble Cantata. "I chose the Orion Nebula because it's the birthplace of stars," she said. "I wanted to be able to take people on a journey into space." While this is her first VR film, McNitt is renowned for her work in films and documentaries, including Artemis Falls, a TED-commissioned short about a young astronaut traveling into space. She's releasing Fistful of Stars together with Vice and Samsung in June for the Gear VR.
It's a fairly short VR experience, but Fistful of Stars still makes a big impact. You start off orbiting the Earth and end up traveling to the Orion Nebula through the Hubble telescope. The experience is based on Hubble imagery, and it's rendered with a loving realism, Engadget said.