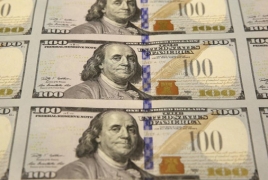 September 5, 2017 - 10:18 AMT
PanARMENIAN.Net - Azerbaijan's ruling elite operated a secret $2.9bn (£2.2bn) scheme to pay prominent Europeans, buy luxury goods and launder money through a network of opaque British companies, an investigation by the Guardian reveals.
Leaked data shows that the Azerbaijani leadership, accused of serial human rights abuses, systemic corruption and rigging elections, made more than 16,000 covert payments from 2012 to 2014.
Some of this money went to politicians and journalists, as part of an international lobbying operation to deflect criticism of Azerbaijan's president, Ilham Aliyev, and to promote a positive image of his oil-rich country. There is no suggestion that all the recipients were aware of the original source of the money. It arrived via a disguised route.
But the revelations once again highlight the use of the lightly regulated British corporate landscape to move large sums of money around, beyond the purview of regulators and tax authorities. Seven million pounds was spent in Britain on luxury goods and private school fees.
The cash, contributed by an opaque array of paymasters in Azerbaijan and Russia, travelled to the British companies – all limited partnerships registered at Companies House in London – via the western financial system without raising red flags. One of Europe's leading banks, Danske, processed the payments via its branch office in Estonia.
Danske Bank said "money laundering and other illegal practices" had taken place. It first noticed the irregular payments in 2014. Estonia's financial regulator said systems designed to stop money laundering at the branch had failed.
The scheme has been nicknamed the Azerbaijani Laundromat. Confidential banking records were leaked to the Danish newspaper Berlingske and shared with the Organized Crime and Corruption Reporting Project (OCCRP), the Guardian, and other media partners. The data covers a 30-month period. It may show the tip of an iceberg.