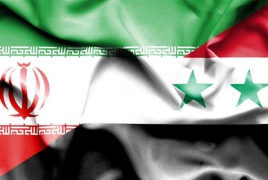 November 8, 2017 - 13:44 AMT
PanARMENIAN.Net - Iran is ready to engage with Syria in all areas, including scientific and academic sectors, said Ali Akbar Velayati, senior adviser to Iran's Supreme Leader in international affairs, IRNA reports.
"Iran's support to Syria is not restricted to just defense issues and Tehran can help Damascus in scientific areas as well, while it can help Syria in the reconstruction process," Velayati said during a meeting Tuesday, November 7 evening in Syria with Mustafa Afioni Chancellor of the Aleppo University.
Iran ranks first in the region in production of scientific articles, proving the country's scientific and technological advancements, said Velayati, who is chairman of the board of trustees of the Islamic Azad University in Iran.
Promotion of scientific relations shows establishment of real security in the region, he said.
The Iranian senior official also called for strengthening of ties between Iran and Syria in all areas, including politics, economy, defense, science and culture.
"Iran will stay beside Syria to help the country defend its territorial integrity," Velayati stressed.
For his part, the chancellor of the Syrian university in Aleppo, the country's largest city and its industrial and financial centre, said that the university was never shut down for a single day during the past seven years of conflicts.
Afioni also called for cooperation between the Aleppo University and the Islamic Azad University in Iran.
Velayati and Afioni at the end of their meeting signed a memorandum of understanding to pave the way for engagement of the two universities.