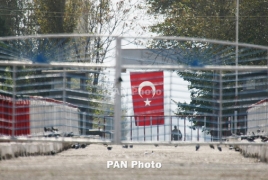 December 5, 2017 - 11:10 AMT
PanARMENIAN.Net - Ankara is the one that has been blocking the normalization of relations with Yerevan, Armenia's deputy foreign minister Shavarsh Kocharyan said after Turkish president Recep Tayyip Erdogan accused Yerevan of keeping "the gates of friendship with Turkey locked under the Armenian Diaspora's pressure."
In his speech to the members of his ruling AK Party, Erdogan reportedly blamed Armenia for freezing out Turkey, when it was Ankara that closed its borders with Armenia in 1993 in solidarity with Azerbaijan, which at the time was waging a brutal war against Nagorno Karabakh (Artsakh).
"Channels for normalization of Armenia-Turkey relations are well known - the Protocols signed in Zurich and their ratification," Kocharyan said in a tweet.
"Since Turkey refused to ratify those protocols, it's Turkey itself that has blocked and continues to block the channels for normalization of relations."