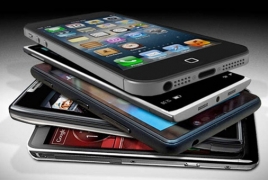 February 5, 2018 - 14:12 AMT
PanARMENIAN.Net - A comprehensive study of exposure to the radiation emitted by mobile phones found an increased risk of a rare tumour in some rodents, although the scientist in charge cautioned against drawing conclusions about the impact on humans, The Star says.
Male rats developed heart tumours when exposed to high levels of a type of radiation used by the wireless telephone industry, according to the draft studies released Friday. Female rats and mice didn't get the same tumours, the studies showed. Results were posted online.
The 10-year, US$25mil (RM97.43mil) toxicological studies are the most comprehensive assessments to date of health effects and exposure to radio frequency radiation in rats and mice, according to the online notice from the National Institute of Environmental Health Sciences, a unit of the National Institutes of Health, the US medical research agency. The toxicology programme is headquartered at the National Institute of Environmental Health Sciences.
The findings shouldn't be extrapolated to humans because the rats were exposed to higher levels of radiation than people take in, even with heavy mobile phone use, said John Bucher, a senior scientist with the National Toxicology Programme. The rats received radiation over their entire bodies for nine hours a day for two years.