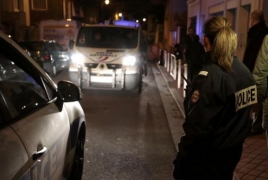 March 24, 2018 - 11:07 AMT
PanARMENIAN.Net - A French police officer who volunteered to trade places with a hostage during a terror attack involving a standoff in a supermarket has died of his injuries, France's interior minister said Saturday, March 24, NBC News reports.
French Interior Minister Gérard Collomb said on Twitter Saturday morning that the lieutenant colonel who was seriously injured, Arnaud Beltrame, died.
"France will never forget his heroism, bravery and sacrifice," Collomb said in the tweet, according to a translation by Reuters.
Paris Prosecutor Francois Molins has said that a lieutenant colonel offered to trade places with a hostage. The officer managed to surreptitiously leave his cellphone on so that police outside could hear what was going on inside the supermarket, the Associated Press reported.
The 25-year-old suspected attacker stole a car, opened fire at police and then took hostages before he was fatally shot on Friday, authorities said. Three other people were killed and more than a dozen others were wounded in the attack, according to officials. Beltrame's death raises the total of those killed in the attack to four.
Police overpowered the assailant at a Super U store in Trèbes, about 8 miles southeast of Carcassonne and 60 miles north of the Spanish border.
Collomb previously identified the slain suspect as Redouane Lakdim, who he said acted alone.
The killings began at around 10:30 a.m. local time (5:30 a.m. ET), when police say Lakdim attacked two people and stole a car, leaving the passenger dead and the driver injured.
As he drove away, Lakdim came across four riot police officers who were out jogging. He fired at them, wounding one in the shoulder, before taking hostages in a nearby grocery store, where he killed two more people, police have said.
Officers then shot and killed Lakdim after storming the supermarket, Collomb said earlier.