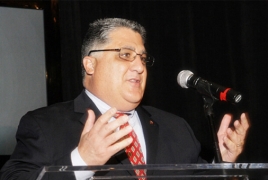 May 23, 2018 - 11:33 AMT
PanARMENIAN.Net - California Senator Anthony Portantino, (D-La Cañada Flintridge) has announced that the Senate Budget Committee adopted the Portantino proposals into the Senate Budget. These three proposals are meant to assist to the Armenian American Community. Portantino is the Chair of the State Senate Education Budget Sub-Committee submitted the following requests:
- Six full tuition scholarships at Hastings College of Law for graduates of the American University of Armenia, AUA. To be eligible for the scholarship, students must be California residents who graduate from AUA and meet Hastings' admission requirements.
- $500,000 state grant to create study guides for California schools to properly teach the Armenian Genocide. This follows on the heels of last year's successful effort to budget $10 million for the implementation of the updated Social Science curriculum in California. The Armenian Genocide was one of several subjects included in the updated curriculum.
- $500,000 ongoing funding source for Glendale Community College to offset cost of closing the campus on April 24th.
"As the representative of the largest Armenian American community, I have unique opportunity to learn from my friends and then try to help where I can. This proposal will help students succeed and have the opportunity to obtain their law degrees from a high credited institution. This year, I'm excited by the six scholarships to help talented young people have the opportunity to obtain law degrees from a highly respected law school.
"I also appreciate that while education is very important for the future, we must also remember our past. I am pleased to be in the position to help educate all of California's students the historical significance of the Armenian Genocide.
"And lastly, I wanted to make sure that GCC isn't penalized financially for properly commemorating the Armenian Genocide by taking April 24th off," commented Senator Portantino.
Senator Portantino has a long and distinguished record of supporting the Armenian American Community. In addition to chairing the Education Budget Sub-committee he also chairs the California Armenia and Artsakh Select Committee. Last year he requested $3 million dollars for the Armenian American Museum in addition to the $10 million dollars for social science curriculum. He has visited Yerevan and Artsakh and supported many local Armenian initiatives and causes. Eelier in the year he held a historic hearing on the 30 commemoration of the Sumgait Pogrom with a survivor of the atrocity.