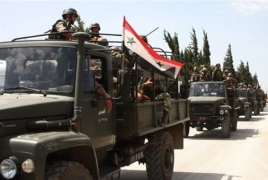 June 18, 2018 - 15:09 AMT
PanARMENIAN.Net - A military source in Damascus said on Monday, June 18 that the Syrian Arab Army (SAA) may begin their long-awaited southwest Syria offensive in the next 3-5 days, Al-Masdar News reports.
According to the military source, the Syrian Arab Army has made their last preparations around both the Dara'a and Al-Quneitra governorates.
The source continued that the Syrian military is awaiting approval from the High Command in Damascus and their Russian advisors, as they both have spent a great deal of time attempting to persuade the rebel forces in southwest Syria to reconcile with the government.
On Sunday, the elite Tiger Forces sent over 60 vehicles filled with their soldiers to the Dara'a Governorate, following the arrival of their commander Major General Suheil Al-Hassan to the province.
With the Tiger Forces, 4th Division, and Republican Guard already inside both Al-Quneitra and Dara'a, there is no really need to delay the offensive unless there is some-sort progress in the reconciliation talks.
A source from the 42nd Brigade of the 4th Division told Al-Masdar in late May that their troops will be leading the offensive in Al-Quneitra.
The 42nd Brigade officer added that the Dara'a campaign will be separate and led by the Tiger Forces, different units from the 4th Division, and the Republican Guard.
Almost all of these troops – save the 5th, 7th, and 9th divisions – were previously deployed to the Damascus and Homs fronts, where they led the offensives in the East Ghouta, eastern Qalamoun, and northern Homs regions.
The 9th Division will be primarily using their shock troops during the upcoming battle in the Al-Quneitra Governorate.
Should this offensive begin in the next few days, the rebel forces will face their most daunting challenge of the war, as thousands of pro-government troops are prepared to launch this big attack to retake many areas in the south.