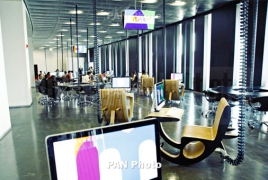 July 11, 2018 - 12:01 AMT
PanARMENIAN.Net - Armenia has slipped to the 68th spot from last year's 59th in the ranking of the world's innovative economies, but has made it to the list of innovation achievers, according to a report released Tuesday, July 10 by the UN intellectual property agency.
In its 11th edition, the Global Innovation Index 2018 ranks 126 countries based on 80 indicators ranging from the creation of mobile applications to education spending, scientific and technical publications, and intellectual property filing rates.
According to the report, 20 middle and lower-income economies that perform "significantly better" than their level of development would predict made this year's list of "innovation achievers."
Armenia was among the achievers from eastern Europe, alongside South Africa and Madagascar from sub-Saharan Africa, as well as India, Montenegro and handful of other countries.
Azerbaijan, meanwhile, lags behind Armenia in the 82nd spot, while Georgia is ahead at 59th in the overall ranking.
The index placed Switzerland in the first spot, followed by the Netherlands, Sweden, United Kingdom and Singapore.
Yemen, Togo and Burkina Faso round out the list as the least innovative economies of the world.