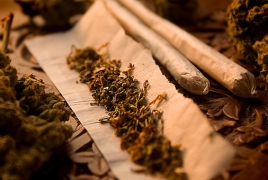 September 12, 2018 - 14:13 AMT
PanARMENIAN.Net - Georgia may legalise the production of cannabis for export, if a new law proposed by the Ministry of Internal Affairs goes ahead. The Interior Ministry announced that the government was working on 'different ways to regulate cannabis' on Tuesday, September 11, OC Media reveals.
According to the Ministry, the law would mean restrictions on 'producing cannabis for pharmaceutical and cosmetic purposes for export' would be lifted. Selling cannabis in Georgia would still remain illegal.
According to Georgian news agency InterPressNews, the potential draft law was discussed within the ruling Georgian Dream Party on Monday, causing a heated debate. Party leader and former PM Bidzina Ivanishvili was reportedly among the initiative's supporters.
The Ministry first said announced they were working on a draft law on cannabis usage on 5 September, after activist Giga Makarashvili was briefly detaining for smoking cannabis live on TV. Their initial statement mentioned only suggestions to place restrictions on cannabis consumption, leaving advocates of drug legalisation frustrated.
The latest announcement caught many by surprise. Gia Gachecheiladze, an MP from Georgian Dream, said that the initiative concerns exports only, and would give licences to certain entities to produce cannabis.
The announced plan came under fire from the opposition. 'They want to produce it while punishing others for it? This is absurd', stated Giga Bokeria, a leading MP from the European Georgia Party, who urged the government to fully legalise cannabis 'for everyone'. Bokeria argued that regulating cannabis made sense, and said the government should not try to have a monopoly on selling it.
The Patriarchate of the Georgian Orthodox Church, who had planned an unrelated conference for Wednesday, said the news would be at the top of the event's agenda.
The Church, which preemptively condemned the Constitutional Court's July ruling legalising cannabis consumption, has pushed back at efforts to portray drug use as in any way acceptable or a matter of personal freedom, as the court suggested in its ruling.
While the Church has in the past called for harsh sentences for drug dealers, they have said they oppose 'sending addicts to prisons', and advocate instead for providing treatment to those in need.