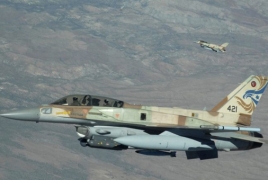 October 3, 2018 - 15:19 AMT
PanARMENIAN.Net - Israel will not be deterred by the new delivery of S-300 anti-aircraft missiles to the Syrian military, Minister of Defense Avigdor Lieberman said on Wednesday, October 3 afternoon, according to Al-Masdar News.
"I cannot say that we are pleased with the deployment of the S-300. However, this is the very topic where we have no way out. There is no way not to make decisions," he said.
The minister added that it was important for Russia and Israel to restore normal ties despite their disagreements over the downing of the Russian reconnaissance plane Il-20.
"I think the most important thing for us today is…to return the working relationship to normal. It is today the most important task — to return to normal operation, coordination, to more actively use the "hot line" to prevent conflict situations. We need to work," said Lieberman.
Lieberman said the Syrian military is still to blame for the downing of the Russian IL-20 aircraft, despite the Kremlin's accusations.
"I repeat, the entire responsibility lies with Assad's army… Over the past two years Israel has conducted more than 200 strikes against Iranian facilities and Hezbollah targets in Syria. Two hundred times, and not a single Russian soldier received a single scratch. Suddenly, here we allegedly arranged such a 'setup'. It is illogical. In addition, you need to understand that the speed of the F-16 is two and a half times the speed of the IL-20… and at the time when the Syrian air defenses opened fire, Israeli planes were already in our airspace," the minister added.