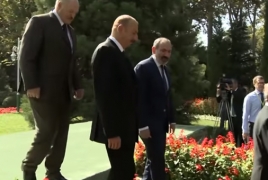 November 9, 2018 - 14:43 AMT
PanARMENIAN.Net - The United States is encouraged by recent constructive contacts by the sides to the Nagorno Karabakh conflict at the levels of heads of state and foreign ministers, acting Deputy Chief of Mission at the U.S. Mission to the OSCE Gregory Macris told a session of the Permanent Council of the organization on Thursday, November 8.
The Armenian Foreign Ministry confirmed in October that "real, working communication" has been established with Azerbaijani authorities.
"These contacts appear to be paying direct and positive dividends," Macris said.
"All three Co-Chairs and the CiO's Personal Representative reported a decrease in violence along the line of contact and in conflict-affected areas over the past two months.
Macris said the sides should seize the opportunity and find ways to move the settlement process forward.
"The United States supports measures to reduce tensions along the line of contact such as expanding the monitoring capacity of the CiO's Personal Representative and establishing an investigative mechanism," he said.
"The United States believes that a meeting between the Foreign Ministers can bring renewed impetus to the discussions on the implementation of these measures."
According to the diplomat, it is time for the sides to refrain from mutual accusations and recriminations and prepare their populations for peace.
"The United States is committed to working with the sides to find a lasting and peaceful resolution, one based on the principles shared by participating States of non-use of force, territorial integrity, and equal rights and self-determination of peoples, as embraced in the Helsinki Final Act," Macris concluded.
Acting Armenian Prime Minister Nikol Pashinyan had an unofficial conversation with Azerbaijani President Ilham Aliyev on the sidelines of a meeting of CIS heads of state in Dushanbe. According to Pashinyan, he and Aliyev agreed to instruct the Defense Ministers in both countries to take measures to reduce the tension on the border and the Nagorno Karabakh contact line.