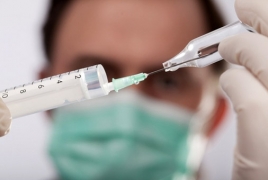 December 3, 2018 - 11:24 AMT
PanARMENIAN.Net - The Israeli Police arrested 40 doctors, medical interns and pharmacists from the Arab sector early Sunday, December 2 who are suspected of presenting false credentials to the Health Ministry, ynetnews reports.
The suspects allegedly presented diplomas from universities in Armenia, even though they did not complete the required studies there, in order to receive medical licenses in Israel.
Early on Sunday morning, police raided the suspects' homes across the country—from the Bedouin town of Lakiya in southern Israel to the Druze town of Majdal Shams in the north.
Some of the suspects work at hospitals—including the Barzilai Medical Center in Ashkelon, the Kaplan Medical Center in Rehovot, and the Yitzhak Shamir Medical Center (formerly Assaf Harofeh)—while others work at other public institutions.
The police investigation was launched at the request of the Health Ministry after it received an anonymous complaint about the matter from a man who presented himself as a doctor.
The investigation found that the suspects studied medicine in different institutions abroad—including in Jordan and Italy, among others—but failed to meet the requirements to receive a medical certification.
They turned to a middleman—who also did not meet the requirements to graduate med school—who sent them to several academic institutions in Armenia: St Theresa Medical University, Yerevan Haybusak University and Mkitar Gosh Armenian-Russian International University. The suspects studied at those institutions for a short period of time, following which they received their diplomas without finishing the required studies.
The police said the suspects, who knew they had a false diploma, presented it to the Health Ministry to receive a medical license in Israel. Some were even able to pass the accreditation exams and get public positions as doctors or medical interns at hospitals or other public institutions.