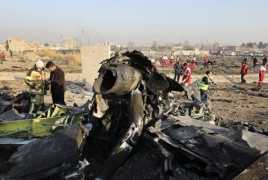 January 10, 2020 - 14:24 AMT
PanARMENIAN.Net - Iran on Friday, January 10 denied Western allegations a Ukrainian jetliner that crashed outside Tehran was brought down by an Iranian missile and called on the U.S. and Canada to share any information they have on the crash, which killed all 176 people on board.
Western leaders said the plane appeared to have been unintentionally hit by a surface-to-air missile near Tehran, just hours after Iran launched a series of ballistic missiles at two U.S. bases in Iraq to avenge the killing of its top general in an American airstrike last week.
"What is obvious for us, and what we can say with certainty, is that no missile hit the plane," Ali Abedzadeh, head of Iran's national aviation department, told a press conference, The Associated Press reports.
"If they are really sure, they should come and show their findings to the world" in accordance with international standards, he added.
Hassan Rezaeifar, the head of Iranian investigation team on Friday told the same press conference that recovering data from the black box flight recorders could take more than a month and that the entire investigation could stretch into next year.
He also said Iran may request help from international experts if it is not able to extract the flight recordings.
The ballistic missile attack on the bases in Iraq caused no casualties, raising hopes that the standoff over the killing of Gen. Qassem Soleimani would end relatively peacefully, though Iran has sent mixed signals over whether its retaliation is complete.