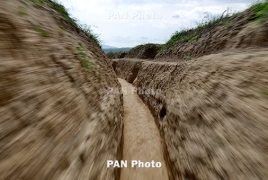 October 17, 2020 - 10:36 AMT
PanARMENIAN.Net - On Russia's initiative, Armenia sent a group of servicemen to Moscow to meet with the representatives of the Azerbaijani Defense Ministry to discuss a mechanism for monitoring the ceasefire in Nagorno-Karabakh, but Baku declined to send a delegation, Armenian Prime Minister's spokeswoman Mane Gevorgyan told TASS on Friday, October 17 evening.
"Yerevan reacted positively to Russia's initiative and sent Ministry of Defense representatives to Moscow to meet with the Azerbaijani side to agree on a mechanism for monitoring the ceasefire in Nagorno-Karabakh," Gevorgyan said. "But according to the information we have, Baku has not sent send its representatives for this meeting. This means that Baku, in fact, rejects the [ceasefire] agreement reached in Moscow and the initiative of the Russian Federation."
According to Gevorgyan, "Yerevan assumes that Turkey does not allow representatives of the Azerbaijani Armed Forces to visit Moscow."
Azerbaijan, with help from Turkey and Syrian and Libyan mercenaries deployed by Ankara, started a war against Karabakh (Artsakh) in the morning of September 27. The Armenian side has reported deaths and injuries both among the civilian population and the military. Foreign and local journalists too have been injured in Azeri shelling of towns and villages.