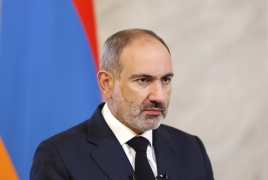 October 21, 2020 - 20:58 AMT
PanARMENIAN.Net - The presence of terrorists in war unleashed by Azerbaijan in Nagorno-Karabakh is a threat, and countries of the region should have a more serious approach to it, Armenian Prime Minister Nikol Pashinyan said in an interview with Iran Daily.
The Prime Minister noted that it has been internationally proved that Syrian terrorist mercenaries are being transferred to the region through Turkey to participate in the war. According to him, the terrorists deployed by Turkey are a serious threat to the region.
"It is unfortunate that the countries of the region have not reacted seriously to this fact. It is beyond any doubt that the presence of foreign terrorists will pose threats, with regional repercussions to be seen in the future. The countries of the region should take this issue more seriously", mentioned Pashinyan.
Turkey has active military presence in the war against Artsakh. Turkish troops support Azerbaijan, also by transferring mercenaries from Libya and Syria to fight against Nagorno-Karabakh.
Armenia was the first to report on Turkey's deployment of thousands of Syrian fighters to Azerbaijan. International media publications followed suit, as did reactions from France, Russia Iran and Syria.
Azerbaijan, with help from Turkey and Syrian and Libyan mercenaries deployed by Ankara, started a war against Karabakh (Artsakh) in the morning of September 27. The Armenian side has reported deaths and injuries both among the civilian population and the military. Foreign and local journalists too have been injured in Azeri shelling of towns and villages.