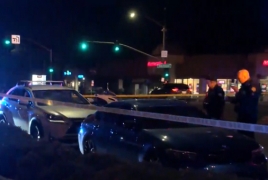 October 29, 2020 - 12:44 AMT
PanARMENIAN.Net - Three pro-Armenia demonstrators were stabbed and a motorist was in custody following a confrontation over a protest road blockage in Fresno Wednesday, October 28 night, according to KTLA.
About 150 people turned out for the "Stand with Armenia" rally, calling for more support for Armenia from the U.S. government, amid Azerbaijan's aggression against Nagorno-Karabakh.
Fresno police responding to a call about a stabbing during the demonstration found three people suffering from stab wounds.
Police say the protest's organizers parked four vehicles to block the intersection and catch the attention of people driving. One of the drivers who was stuck in traffic due to the blockage got out of his vehicle and confronted the demonstrators. Witnesses say some words were exchanged before the driver withdrew a knife or stick and began to violently swing at the demonstrators, according to police.
All three are expected to survive. The Fresno Bee reported that the victims were men between 18 and 26 years old.
Azerbaijan, with help from Turkey and Syrian and Libyan mercenaries deployed by Ankara, started a war against Karabakh (Artsakh) in the morning of September 27. The Armenian side has reported deaths and injuries both among the civilian population and the military. Foreign and local journalists too have been injured in Azeri shelling of towns and villages.
Also read: Lyon: Turks, Azeris shout threats against Armenians