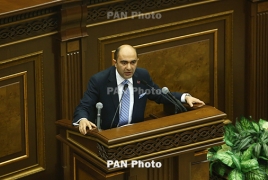 January 21, 2021 - 14:36 AMT
PanARMENIAN.Net - Opposition Bright Armenia party of Armenia has rejected Prime Minister Nikol Pashinyan's proposal to hold snap parliamentary elections and sign a memorandum, proposing the candidacy of Bright Armenia leader Edmon Marukyan in a counter-memorandum.
"I have said that the formation of an interim government is our priority, I am the candidate for that government and I will submit my candidacy. The agenda to hold snap elections has been put forward by the authorities in response to the opposition's demand for the PM's resignation. No consensus has been reached, and the subject of the memorandum has been closed," Marukyan said, Aysor.am reports.
The lawmaker maintained that just because he says they are ready for elections once the Prime Minister resigns does not mean he will not run for Prime Minister.
"I have proposed a counter-memorandum, which means we agree that I am going to be elected as the new Prime Minister, then resign on October 1, and when no one is nominated and elected then, the parliament is dissolved," Marukyan explained. The MP said no consensus has been reached on his "counter-memorandum" either.
17 opposition parties united earlier to propose the candidacy of ex-Premier Vazgen Manukyan for the post of the head of government. Demands for Prime Minister Nikol Pashinyan's resignation came immediately after he signed a trilateral statement with Russia and Azerbaijan to end the war in Nagorno-Karabakh after almost 45 days. Under the deal, the Armenian side has returned all the seven regions surrounding Nagorno-Karabakh, having lost a part of Karabakh itself in hostilities.