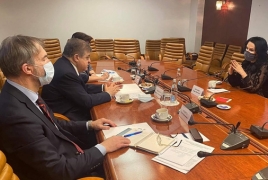 February 19, 2021 - 14:38 AMT
PanARMENIAN.Net - Lawmaker from the opposition Prosperous Armenia Party Naira Zohrabyan has delivered the lists of Armenian prisoners of war and captives being held in Azerbaijan to her Russian colleagues, Zohrabyan herself said on Facebook.
Zohrabyan noted that the conflict in Karabakh is the main topic of discussions in the State Duma and the Federation Council of Russia. According to her, the humanitarian crisis in post-war Karabakh, the issue of returning prisoners of war without preconditions and the problem of missing persons are high on the agenda.
"I have given to my Russian colleagues the lists of prisoners of war and captured civilians that were sent to the European Court, and I am sure that everything will be done to return the captives," Zohrabyan said.
Several dozen Armenian POWs returned from Azerbaijan in mid-December, although Armenian officials said many more people were being held in Baku. Dozens of others, both servicemen and civilians, have been captured after the completion of military hostilities. Azerbaijani President Ilham Aliyev has said in one of his speeches that the newly detained persons are not prisoners of war but "terrorists". Human rights lawyer Siranush Sahakyan has said, meanwhile, that at least 120 Armenian prisoners of war are being held in Azerbaijan. Sahakyan represents the rights of some of the Karabakh POWs before the European Court of Human Rights. The lawyer said there is enough evidence proving the capture of said persons, which the Armenian side will submit to international agencies and courts.