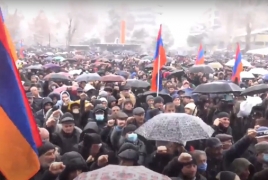 February 20, 2021 - 17:15 AMT
PanARMENIAN.Net - The opposition is staging a rally in Yerevan on Saturday, February 20, demanding the resignation of Prime Minister Nikol Pashinyan. People have now gathered at Freedom Square in the center of the Armenian capital.
The rally was organized by a coalition of 17 opposition parties calling itself the Homeland Salvation Movement. Police vehicles are stationed in the city center. Buses with law enforcement officers and special equipment are standing outside the building of the Armenian parliament.
According to opposition candidate for PM Vazgen Manukyan, after 2018, Armenia has only had "tragedy, we have lost almost everything." Manukyan noted that the economic situation in the country is "deplorable", but in order to change this, it is necessary to "expel" the government.
"We must not only restore everything we have lost, but also really build the state we have dreamed of," Manukyan added.
Pashinyan came under fire after signing a statement with the Russian and Azerbaijani Presidents to end the war in Karabakh after almost 45 days. Under the deal, the Armenian side was forced to return all the seven regions surrounding Nagorno-Karabakh, having lost a part of Karabakh itself in hostilities.