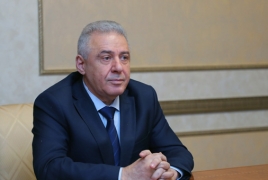 February 22, 2021 - 19:02 AMT
PanARMENIAN.Net - Armenia will ensure the safety of a road connecting Azerbaijan to Nakhichevan, Defense Minister Vagharshak Harutyunyan said in an interview with RIA Novosti.
"First of all, I would like to note that the use of the term "corridor" is incorrect when it comes to transport communications between the western regions of Azerbaijan and the Nakhichevan Autonomous Republic," Harutyunyan explained.
"According to the statement of the the Prime Minister of Armenia, President of the Republic of Azerbaijan and the President of the Russian Federation from November 9, 2020, the only corridor is the one in Lachin, which connects Nagorno-Karabakh to Armenia. In all other cases, we are dealing with transport communications."
At the same time, he added, Armenia, in accordance with its obligations, will ensure the safety of said transport communication.
"It is not necessary to involve the army in the process, and control over transport communications, again according to the trilateral statement, is entrusted to the border service of the FSB of Russia," Harutyunyan added.
Armenian Prime Minister Nikol Pashinyan, Russian and Azerbaijani Presidents Vladimir Putin and Ilham Aliyev on November 9 signed a statement to end the war in Karabakh after almost 45 days. Under the deal, the Armenian side has returned all the seven regions surrounding Nagorno-Karabakh, having lost a part of Karabakh itself in hostilities.