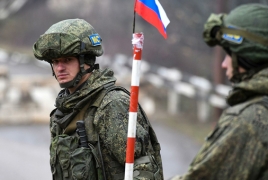 February 23, 2021 - 12:54 AMT
PanARMENIAN.Net - Nagorno-Karabakh (Artsakh) presidential spokesperson Lusine Avanesyan has commented on reports of Azerbaijani vehicles passing through territories under the Armenian side's control in the past 15-20 days.
"The Azerbaijani columns, accompanied by Russian peacekeepers, have been using the Artsakh-controlled [section of] Martakert-Vardenis highway since the November 9 ceasefire statement," Avanesyan told Armenpress.
According to her, the 45-50 km section of the highway starts from Mataghis and reaches Karvachar through the villages of Drmbon and Getavan.
"Back in January, the residents of Drmbon blocked the road for the Azerbaijani motorcade, demanding that they also be given the opportunity to use the relatively short road to Vardenis," Avanesyan said.
"After the ceasefire was achieved in November last year, in accordance with the provisions of the statement, Azerbaijani vehicles accompanied by Russian peacekeepers have been moving along this highway, as well as along the Red Market-Shosh-Shushi and Shushi-Berdzor roads."
The spokesperson added that the movement of Azerbaijani columns has recently intensified due to the transportation of construction materials.
Avanesyan's comments came after reports from the Russian side that the peacekeepers have delivered several hundred tons of humanitarian cargo to the Karvachar (Kelbajar) region of Nagorno-Karabakh, which is currently under Azerbaijan's control, the Russian Ministry of Defense reports.