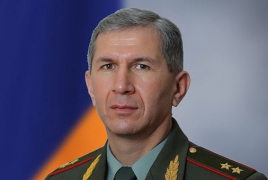 March 10, 2021 - 13:13 AMT
PanARMENIAN.Net - The Chief of the Armenian Army General Staff, Colonel-General Onik Gasparyan said Wednesday, March 10 that he has filed an application with the country's Administrative Court, hours after Prime Minister Nikol Pashinyan said Gasparyan has been fired by force of law.
The decree on Gasparyan's dismissal was first issued on February 25 when the country's top military brass demanded Pashinyan's resignation. And although President Armen Sarkissian did not sign Pashinyan's proposal to sack the Chief of Army Staff, he was relieved of his post nonetheless, as the President did not send the draft decree to the Constitutional Court either, thus paving the way for his dismissal.
"My position is unchanged: both the [decree on dismissal] and the entire process are unconstitutional, which proves once again that only the resignation of the Prime Minister and snap parliamentary elections will help overcome the current crisis," Gasparyan said in a statement Wednesday.
"I will continue my service to the homeland and the Armenian people in a different status."
Gasparyan also urged the army to continue serving the homeland and the people for the development of the Armed Forces and the strengthening of Armenia and Artsakh (Nagorno-Karabakh).