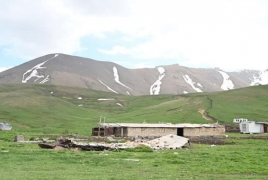 June 17, 2021 - 14:16 AMT
PanARMENIAN.Net - Azerbaijani troops on Wednesday, June 16 stole a cow and a newly-born calf belonging to an Armenian villager in the province of Gegharkunik, Human Rights Defender Arman Tatoyan reports.
Tatoyan said a shepherd in the village of Verin Shorzha woke up in the early morning of Wednesday when Azeri forces opened fire towards the cattle grazing in the field nearby. He immediate found out that one of the cows and a young calf were missing and noticed nine Azerbaijani soldiers herding the the animals towards their positions, the Ombudsman added. Several shepherds tried to get the animals back, but the Azeris opened fire on the animals and the herdsmen, injuring the cow that had started to run towards the villagers.
Four hours after the theft, the shepherds saw the Azerbaijanis slaughtering the cow, Tatoyan said.
"The Human Rights Defender of the Republic of Armenia records that the theft happened on the sovereign territory of Armenia, and that the Azerbaijani troops had descended from positions illegally established on Armenian soil," the Ombudsman said in a statement.
"Azeri servicemen commit blatant criminal acts with the intent to deprive Armenian civilians of their rights to live, engage in cattle breeding and earning income for their families."
Tatoyan once again stressed the importance of creating a security zone in the provinces of Syunik and Gegharkunik in order to ensure the safety of the citizens of Armenia.