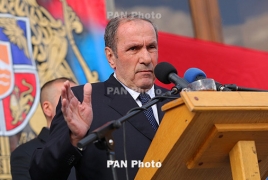 June 18, 2021 - 11:43 AMT
PanARMENIAN.Net - Leader of the Armenian National Congress (ANC), First President Levon Ter-Petrosyan has said he believes in the sensibility of the Armenian nation and their ability to make the right decision at crucial moments.
"You have no right to make a mistake this time," Ter-Petrosyan said in a video message. According to him, the country is facing a decisive dilemma: to restore the stability of the state or deepen the crisis. He noted that the election campaign is evidence that the conflicting forces have so far chosen the second option.
"These forces have nothing to say about the future of the country. Their optimistic promises and beautiful plans are just a veil to hide their real intentions and deceive the people," the former President said.
"And their real goal is to seize power at any cost, to take revenge on opponents, using their massive administrative, financial, media and criminal levers, not even shunning clashes, open threats of provoking a civil war."
Ter-Petrosyan urged the public to vote for the ANC in the upcoming snap parliamentary elections on June 20, in order to ensure the presence of "a principled, realistic political force" in the parliament.
Acting Prime Minister Nikol Pashinyan announced on March 18 that Armenia will hold snap parliamentary elections on June 20. The PM came under fire after signing a statement with the Russian and Azerbaijani Presidents to end the war in Nagorno-Karabakh almost 45 days after the start of the military hostilities. Under the deal, the Armenian side was forced to return all the seven regions surrounding Karabakh, having lost a part of Karabakh itself in hostilities.