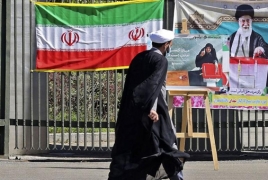 June 18, 2021 - 14:04 AMT
PanARMENIAN.Net - Iranians are voting in a presidential election in which the ultraconservative cleric Ebrahim Raisi is seen as all but certain to coast to victory, after all serious rivals were barred from running, The Guardian reports.
The supreme leader, Ayatollah Ali Khamenei, cast the first vote in Tehran and then urged Iran's nearly 60 million eligible voters to follow suit before the scheduled close of polls at midnight.
"The sooner you perform this task and duty, the better," the 81-year-old Khamenei said, stressing that voting "serves to build the future" of the Iranian people.
But enthusiasm has been dampened by the disqualification of many hopefuls from the race and the deep economic malaise which has sparked spiraling inflation and job losses, the crisis deepened by the Covid pandemic.
Iran has often pointed to voter participation for democratic legitimacy – but polls signal the turnout may drop below the 43% of last year's parliamentary election. Results are expected around noon on Saturday. If no clear winner emerges, a runoff will be held a week later.