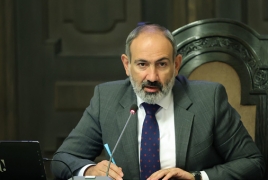 July 15, 2021 - 14:24 AMT
PanARMENIAN.Net - Caretaker Armenian Prime Minister Nikol Pashinyan has responded to Azerbaijani President Ilham Aliyev's comments about what he calls the "Zangezur corridor".
The Armenian side has repeatedly denied being involved in negotiations for the provision of a "corridor" to Azerbaijan, stressing that they have only agreed to unblock transport communications in the region.
Pashinyan told a Cabinet meeting on Thursday, July 15 that the working group co-chaired by the deputy prime ministers of Russia, Armenia and Azerbaijan is carrying out rather constructive and effective work to unblock regional communications. According to him, Azerbaijan's statements about the so-called "Zangezur corridor" have nothing to do with the work of the deputy PMs or with the January 11 statement of the leaders of the three countries.
The acting Prime Minister believes, however, that Azerbaijan is against unblocking communications in the region. Azerbaijan's goal, he said, is to continue the 30-year policy of blockading Armenia, but Armenia will continue its efforts to unblock the country.
"After the parliamentary elections [in Armenia], we see that Azerbaijan, despite the peaceful statements in the international arena, is doing everything to obstruct peace in the region, and is being predictable in the process," Pashinyan said.
He also said Azerbaijan has a new strategy and is trying to convince the world that Armenia and Artsakh (Nagorno-Karabakh) are against peace, as well as the delimitation and demarcation of borders. According to him, however, Armenia, with the help of Russia and other international players, will achieve the unblocking of communications in the region.