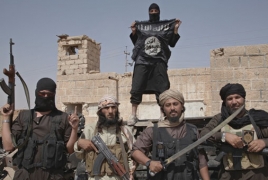 July 20, 2021 - 13:46 AMT
PanARMENIAN.Net - ISIS have claimed responsibility for an explosion that ripped through a busy market in the Iraqi capital on Monday, July19, killing at least 27 people and wounding 32, CNN reports.
Children and women were among the dead and wounded, according to health and security officials. The blast took place in the Wahailat outdoor market in Sadr City, a predominantly Muslim Shia neighborhood in the east of Baghdad.
Police officials said a number of shops and stores were also damaged in the blast.
The market, like many other public places, had been packed with shoppers preparing to celebrate an Islamic religious festival, Eid al-Adha. Videos published on social media show women holding their babies and screaming as they flee the scene.
ISIS claimed responsibility hours after the blast happened, saying in a statement that it had been carried out by a suicide bomber wearing an explosive vest. The terror group provided no evidence to support the claim.
In a statement on Monday, the Iraqi military said the explosion was caused by an improvised explosive device (IED). However, two police officers said they have yet to determine the cause of the blast, as the investigation is still underway.