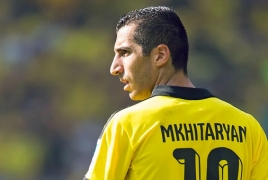 September 4, 2021 - 17:46 AMT
PanARMENIAN.Net - Armenian midfielder Henrikh Mkhitaryan proved he could flourish in Europe's top five leagues after Borussia Dortmund brought him to the Bundesliga. Currently at Roma, he has morphed from exciting prospect to bona fide game-changer in his three seasons in Germany, according to an article published on the Bundesliga website.
"It didn't take long for the new arrival to make an impact. He had tallied an assist for Marco Reus and scored himself within 16 minutes of a pre-season friendly with Basel, and though injury in another warm-up encounter meant he sat out the opening Bundesliga game, he soon showed he could cut it in Europe's big leagues," the article reads.
"As his team roared out of the blocks, so did 'Micki', netting three times in his first four league games, including a brace at Eintracht Frankfurt that brought a 2-1 win. "It's not really me you should be congratulating but the team, it's most important that we won," he said with his trademark humility.
"I'm really settling in, this is a great place to improve, and we're still getting better as a team. Jürgen Klopp is one of the best coaches in the world, and I'm proud that he's my coach - together we can be successful."
After a great debut season, Mkhitaryan's second campaign was marked by several injuries․ The third, however, brought sunnier times for Mkhitaryan.
"Fate can be interesting. A new manager, Thomas Tuchel, came to Dortmund before my third season, and he changed everything for me," Mkhitaryan said. "He came to me and said, 'Listen, I want to get everything out of you.'"
Now a UEFA Champions League-winning coach, Tuchel at the time was billed as an up-and-coming tactician who had enjoyed success at Mainz and was moving into his first major job with the potentially thorny task of replacing the iconic, Bundesliga title-winning Klopp.
But the current Chelsea manager had an almost instant impact on his Armenian star. Playing in an attacking 4-1-4-1 line-up with Reus, Aubameyang, Shinji Kagawa and Ilkay Gündogan, Mkhitaryan struck twice in the 4-0 win over Borussia Mönchengladbach to open the 2015/16 season with a bang.
"After the season I had had, I didn't think I could be a star. But he did it. He got everything out of me that season, and it was because I was happy again," said Mkhitaryan of Tuchel.
"That season, we played with enthusiasm. We played a crazy, super-attacking style, and we enjoyed every minute on the pitch. We basically played with two defenders, three midfielders and five strikers, and we had success. Even when we lost, we had fun."
They did lose, but only four times in the Bundesliga as they finished runners-up to the peerless Bayern. Mkhitaryan played in all but three of their top-flight matches, netting 11 times and setting up 20 more goals to end as one of the campaign's stand-out performers league-wide.
It was to be a glorious swansong as - with just 12 months left on his contract - Mkhitaryan moved on to United, signing for them at the same time as Zlatan Ibrahimovic.
"Based on a completely new situation, this transfer was a difficult trade-off for us," said Watzke. "Manchester made us a very attractive offer. Had we refused it, the player would have left us on a free transfer in 2017 and we would only have delayed the matter of replacing him for a year."
But it was those years in Dortmund which showed Mkhitaryan to the rest of Europe and beyond.